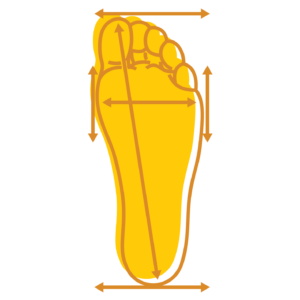 Determining the right shoe size for you
We understand that buying shoes on-line can be a concern when deciding on the right size for you. Generally, our safety footwear fits in the same sizing as you would wear for any other standard shoe.
If you're not sure of your shoe size, you can follow these four easy measurement steps:
Make sure you are barefoot.
Place a piece of paper on the ground and stand on it with your weight slightly forward to make sure your foot is flat.
Draw a line behind your heel and another line in front of your longest toe. Don't worry, it's common to have one foot be longer than the other, so use the longer foot to measure.
Measure the distance between the two lines in centimetres and find your measurement on the size chart to get your best fit. Round up if your size falls in-between.
 
CM's
UK/SA Sizes
EU Sizes
21.5
2
36
22.5
3
37
23.5
4
38
24
5
39
25
6
40
26
7
41
27
8
42
28
9
43
29
10
44
29.5
11
45
30.5
12
46
31
13
47
32
14
48
33
15
49
34
16

50
 
CM's
UK/SA Sizes
EU Sizes
21
2
35
22
3
36
23
4
37
24
5
38
25
6
39
26
7
40
27
8
41
28
9
42